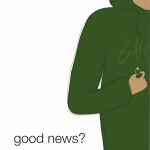 This Christmas season we'll celebrate the birth of Jesus, and for good reason.  But the announcement of a newborn king 2000 years ago wasn't good news to everyone.  For some, it threatened their very existence; for others, it was a declaration that turn their lives upside down (and then some).
So what about today?  What does Jesus' birth mean to us?  Is it good news?
Join us as we view the story through the eyes of its characters.
November 28: King Herod
December 5: Zechariah and Elizabeth
December 12: Mary
December 19: Joseph