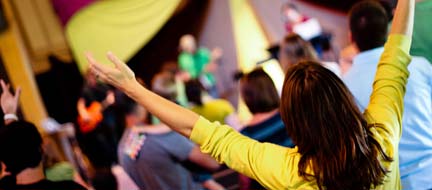 Living out our mission and values can be a challenge. Life offers countless distractions and difficulty that can keep us from fully following the way of Jesus.
That's why we gather every week. Coming together helps remind us of what is true; it reorients our lives to the things that matter; it provides us with encouragement as we see that we're not alone in the journey; and it gives us a place to connect and build relationship. And so while Sunday morning isn't the only thing that defines us, it is a cherished experience for our community, and you're invited to join us.
On Sundays, we look for God through teaching, music, art, prayer, film, the Scriptures and food. We seek God in weekly communion, and we respond to God with our hands, our mouths, and our feet.
Everyone who enters our doors is invited to participate in our time together, but we also know that there are weeks, even seasons, when we just need to come, sit and be. Know that there is space for you no matter where you are on the journey.
BranchKids, our children's ministry, is available during worship for birth-4 years old every week, and for PreK-4th grade every Sunday except the last Sunday of the month. On those weeks, these older kids and students join us for worship, contributing to our life together.
We gather Sundays at 9:30am at 973 28th Street SE, Grand Rapids
*For the time being, we will gather virtually via Zoom. *(https://zoom.us/j/864871555)
For handicap access, use the main doors at our south entrance, off of 28th St