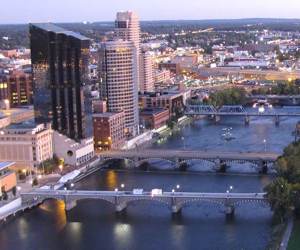 What does it mean to be a missional church?
We believe the Spirit of God is living and active. This means things are always changing. The story of God and the people is continually unfolding. We also believe that God sent the Church to the world for renewal, reconciliation, hope and life. And so, as we, the Branch, look forward in our ministry here on earth and in our little corner of Grand Rapids, we sense the call to be vigilant to how the Spirit is moving and working in our neighborhoods, our schedules and our hearts. And so, we're thinking anew about what a church can look like!
As we've been listening to the Spirit we've been moved to turn our attention to three areas: mission, leadership and making disciples. These three areas have been at the heart of the Branch from the beginning, but for the first time, we feel like there is a clear sense of moving forward and a way to do it. We're calling this way: Missional Communities.
Missional Communities will help this church, and others in our lives, be sensitive to and motivated by the Spirit in bringing God's restoration and love to the relationships and neighborhoods that make up our lives (mission). MC's will also be fertile space for new disciples to be nurtured and for current disciples to grow in awareness of self, God and calling (making disciples). And finally, Missional Communities will be led by ordinary people; these leaders will be flexible and adapting; they will be welcoming to all people; they will be able to multiply. And, most importantly, they will be able to spread God's work and purposes in the world by gathering people and caring for transformation within others (leadership).
Looking for a good place to start learning about what we're doing and why?
Check out this book! Building a Discipling Culture
Or, explore the links below to learn more about what MCs look like at the Branch.
What's a Missional Community?
What should I do?
How can I learn more?
Q & A