From the beginning, the Branch has been relational.
College roommates became co-pastors. Church planters formed out of small groups. Church bodies agreed to be "mothers" and "sisters." It's natural that our leadership is team focused. Together, we celebrate our different strengths and our need for each other.
Our staff is made up of individuals who serve as point people for the rest of us. They will lead, design, and dream – but not by themselves. And, definitely not without coffee. Meet them.
Chris DeBlaay, Lead Pastor (chris@thebranchonline.org)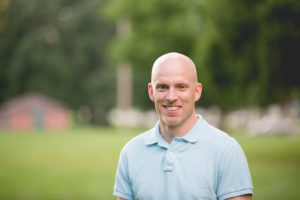 Chris' life is defined by the days of the week. On Mondays and Thursdays he is a wellness guru, helping people live better, fuller lives. Some evenings and afternoons he is a stay-at-home-dad, fulfilling his role in the school car-pool, while not forgetting to pick up milk. On Tuesdays, Wednesdays, Fridays and Sundays he is a Branch pastor. With such a complex schedule, you might imagine Chris has the ability to create excellent Excel spreadsheets. You wouldn't be wrong.
As a Branch Pastor, Chris leads in areas of vision, community, leadership development and transformation. He helps us ask "with whom are you connected?" and "is Jesus more obvious in your life today than he was yesterday?"
Chris has been married to his wife, Bethany, for nearly 20 years. They have 4 children: Raya, Zeke, JP, and Ruby. When not serving the Branch, Chris is … oh yeah, you already read that stuff. What you don't know? He manages it all with a double-tall, white chocolate mocha in his hand.

Teresa Kinnear, Equipping Pastor
(teresa@thebranchonline.org)
Teresa is a relatively new transplant to Grand Rapids. She has been here since the summer of 2015 and has been busy helping her family settle in a new city. She is married to Kyle and they have 2 kids, Zach and Molly. Outside of The Branch, she loves to gather and feed people, volunteer at her kids' school, play the piano, and tackle any project on Pinterest!
Teresa provides leadership and coordination of our ministries at the Branch.  Things like BranchKids, small groups, retreats and Learning Communities are moved forward through her skills and energy. She also keeps her ears and eyes open in order to equip others to take steps of faith in their own homes, neighborhoods or other spheres of influence. It is a joy for her to encourage people along their journey!